The best online version of the Holy Bible is available for you!
Download this holy Bible app free on your mobile device and start enjoying one of the most influential Bible of all time: The New King James Version.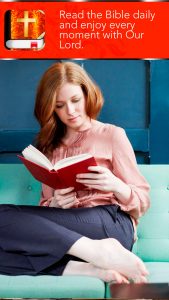 This is a beautiful version full of meaning that will fill your life with positivism and love.
The New King James Version was created in 1975 by more than 100 Bible scholars and church leaders who worked for seven years in order to create a modern translation of Scriptures but keeping the purity and beauty of the original King James.
The Holy Scriptures will lighten your soul and make you feel much closer to God.
The Bible is the source of the Christian religion and contains the words of God. Originally the Bible was written in Hebrew, Greek and Aramaic, but it has been translated into English and many languages.